How To Conduct Legislative Research
Prepared by Tomasz Kolodziej, National Director, Washington Metropolitan Area Division
There are two excellent free websites that can be used to conduct research related to congressional issues and documents: congress.gov and govtrack.us.
Congress.gov is the official website for U.S congressional information. The site is maintained by the Library of Congress and publishes and maintains official data from the Office of the Clerk of the U.S House of Representatives, the Office of the Secretary of the Senate, the Government Publishing Office, Congressional Budget Office and the Congressional Research service. The information presented there is official and complete and is as accurate and timely as it is possible for a government run website.
Govtrack.us is a privately run website started by a student years ago and since maintained by Civic Impulse non-profit organization. They depend on congress.gov and other governmental websites for their information, but the website is well structured and useful. It is usually timely and mostly accurate.
Both of these websites are pretty simple to operate.
How to find information about a status of a congressional bill or a resolution:
The simplest way is to write in the number of the bill in the search box on congress.gov.
House bills use a H.R abbreviation followed by a number – e.g H.R 1226
Senate bills use a S. abbreviation followed by a number- e.g S. 447
The same structure goes for resolutions: H.Res, S. Res, H. J. Res and so forth.
The search box on congress.gov is by default set up to search current legislation. This means it will search for the bill number from the current session of Congress. The sessions of Congress run on biennial cycles beginning with January 1 of an odd numbered year and ending with December 31 of an even numbered year. The current session began on January 1, 2017 and will end on December 31, 2018. All bills that are not enacted into law  expire at the end of the session.
For example, a search for S. 447 looks like this: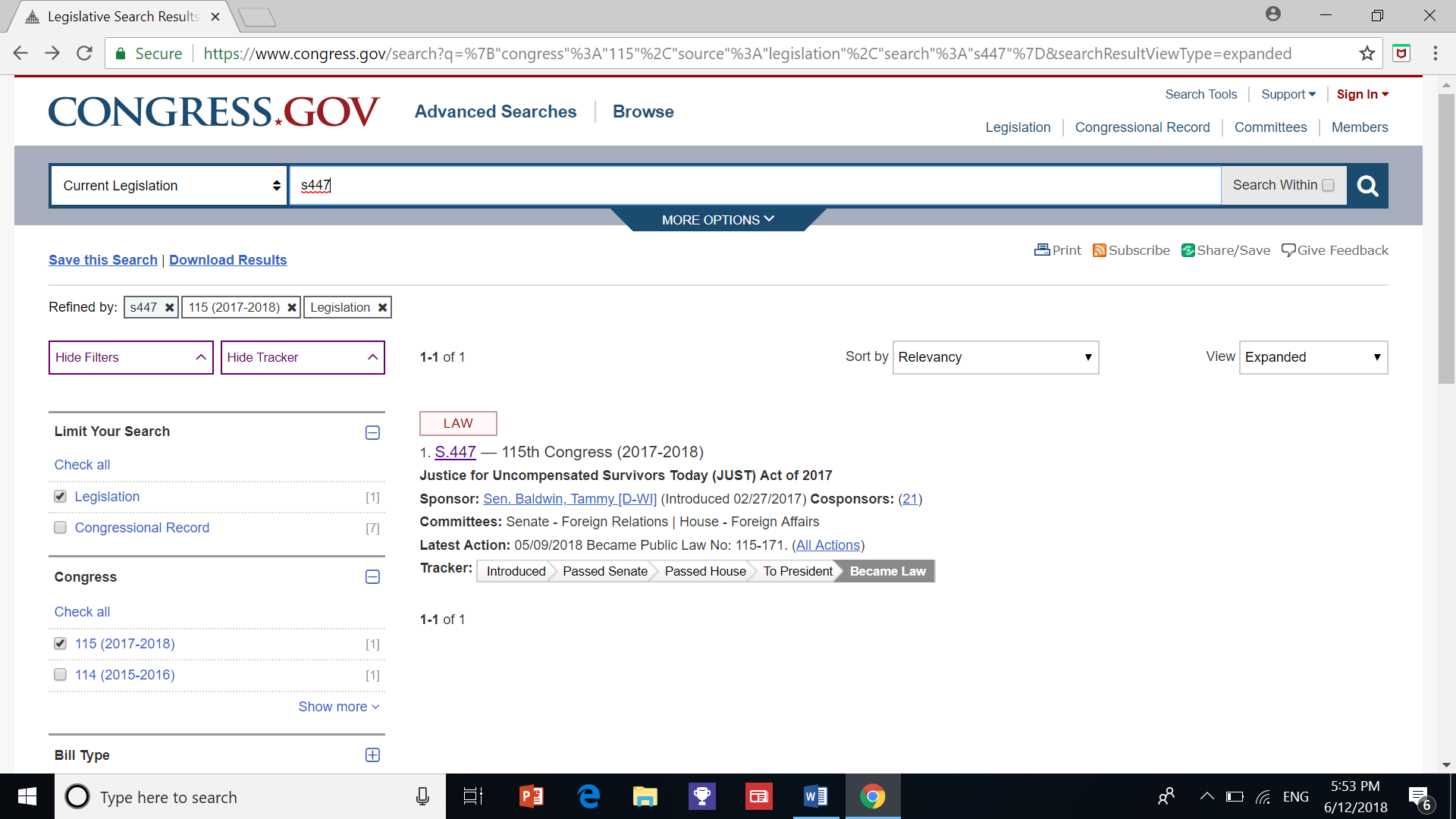 From that simple search we can learn that S. 447 was introduced on February 2, 27, 2017; that it was introduced by senator Baldwin, a Democrat from Wisconsin; that it had 21 co-sponsors; that the committee of jurisdiction was the Senate Foreign Relations committee; that the latest action was that it became a law on May 9, 2018. There is also a graphic that quickly enables the researcher to see how far along the legislative process the bill is even without checking the other information.
More detailed information can be accessed by clicking into the bill.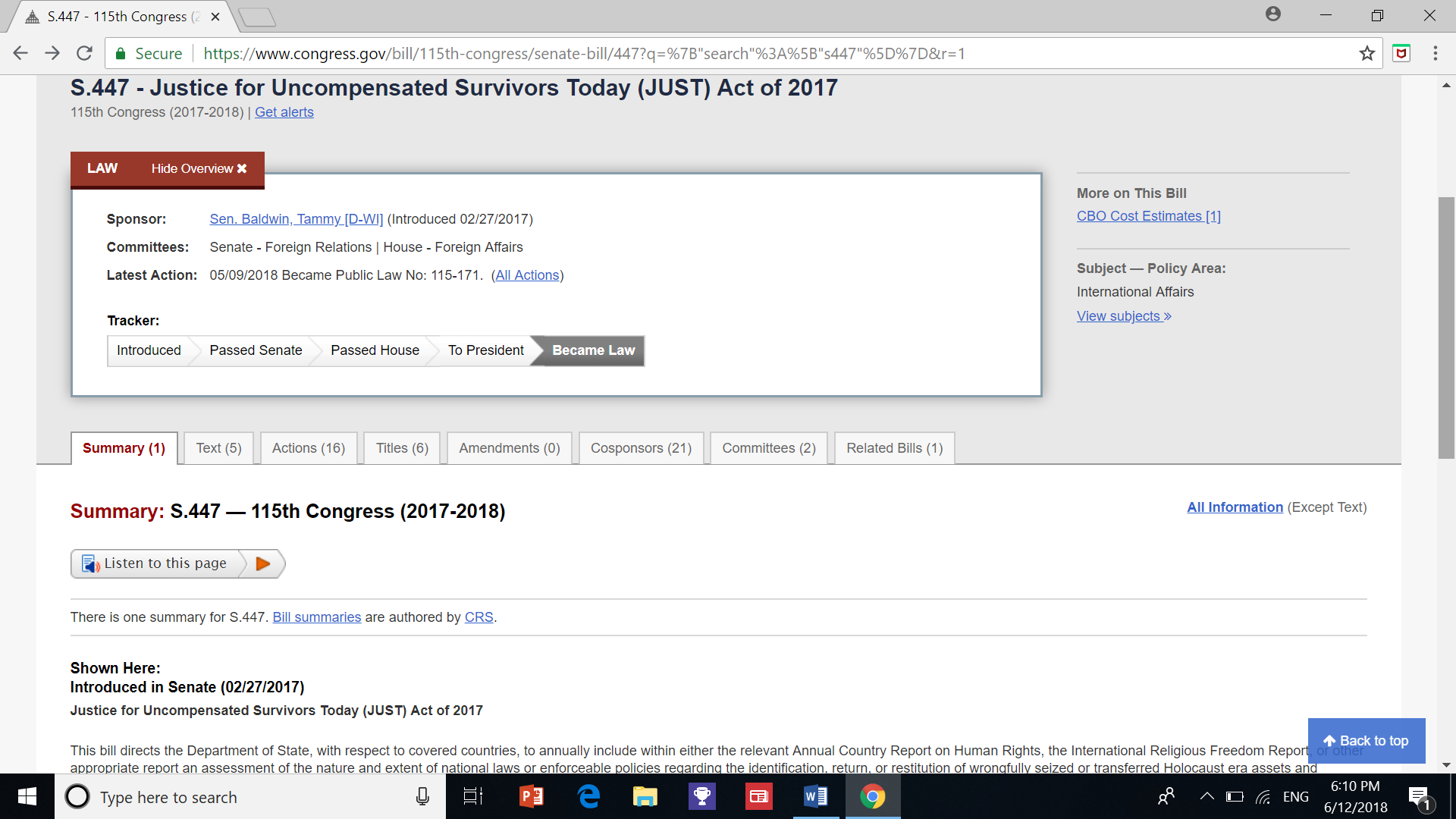 There are eight tabs with additional information for the bill that include: a summary of the bill prepared by the Congressional Research Service; various bill versions from the introduced to the final version as the bill evolved through the legislative process; list of actions on the bill that provide the chronological history of bill's progression; list of titles of the bill; list of any amendments proposed to the bill in the legislative process; list of cosponsors; list of committees that worked on the bill; and the list of any related bills. For example here a researcher would find information about H.R 1226 that was the House version of S. 447.
These tabs contain virtually the entire documentary history related to any bill. The vote records and congressional statements related to a bill can be accessed through the links in the actions tab as you can see below: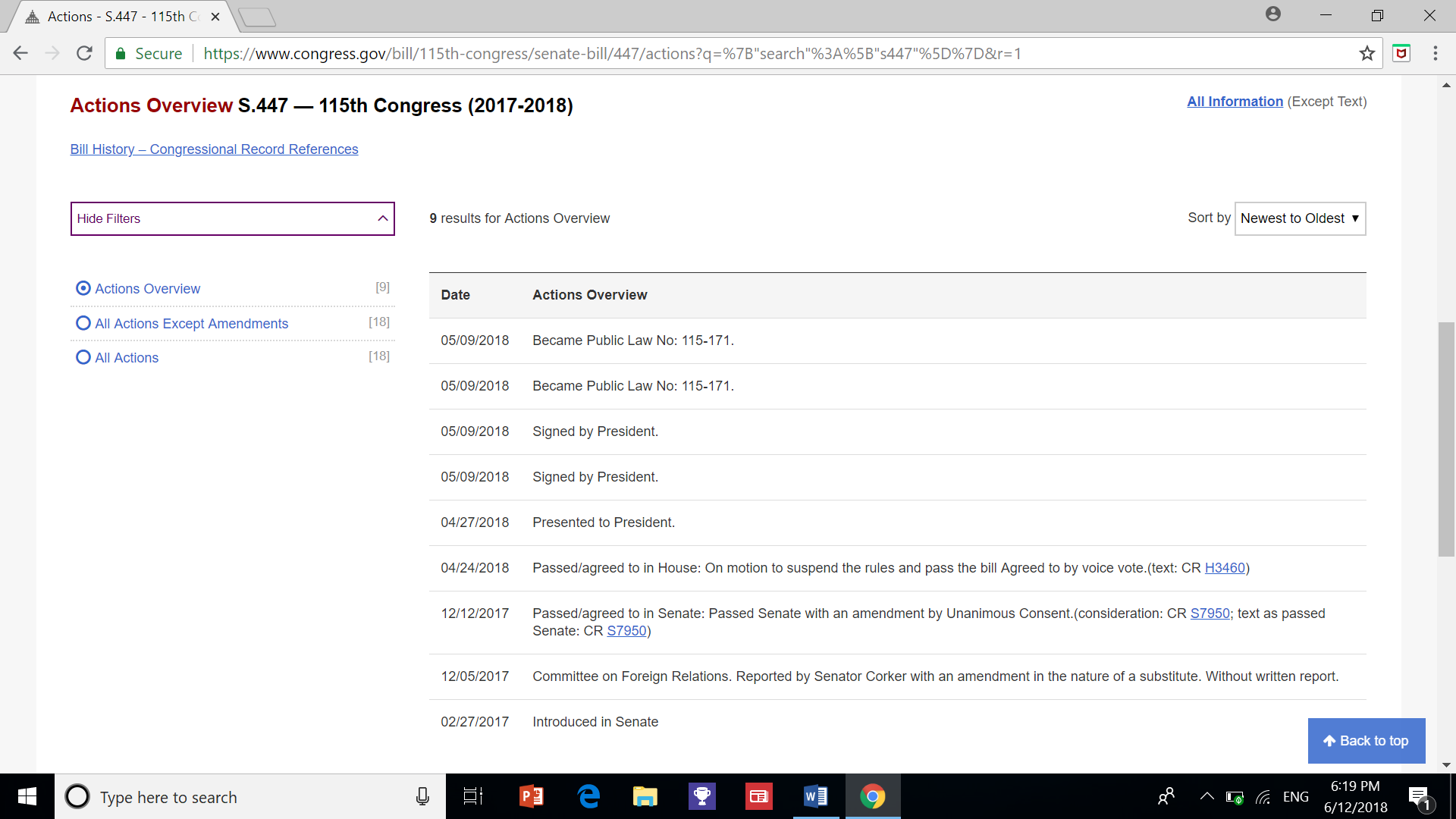 Congress.gov also can be used to find information about bills from prior sessions of Congress. To find that information it is necessary to change the "current legislation" default search to "all legislation" in the search box.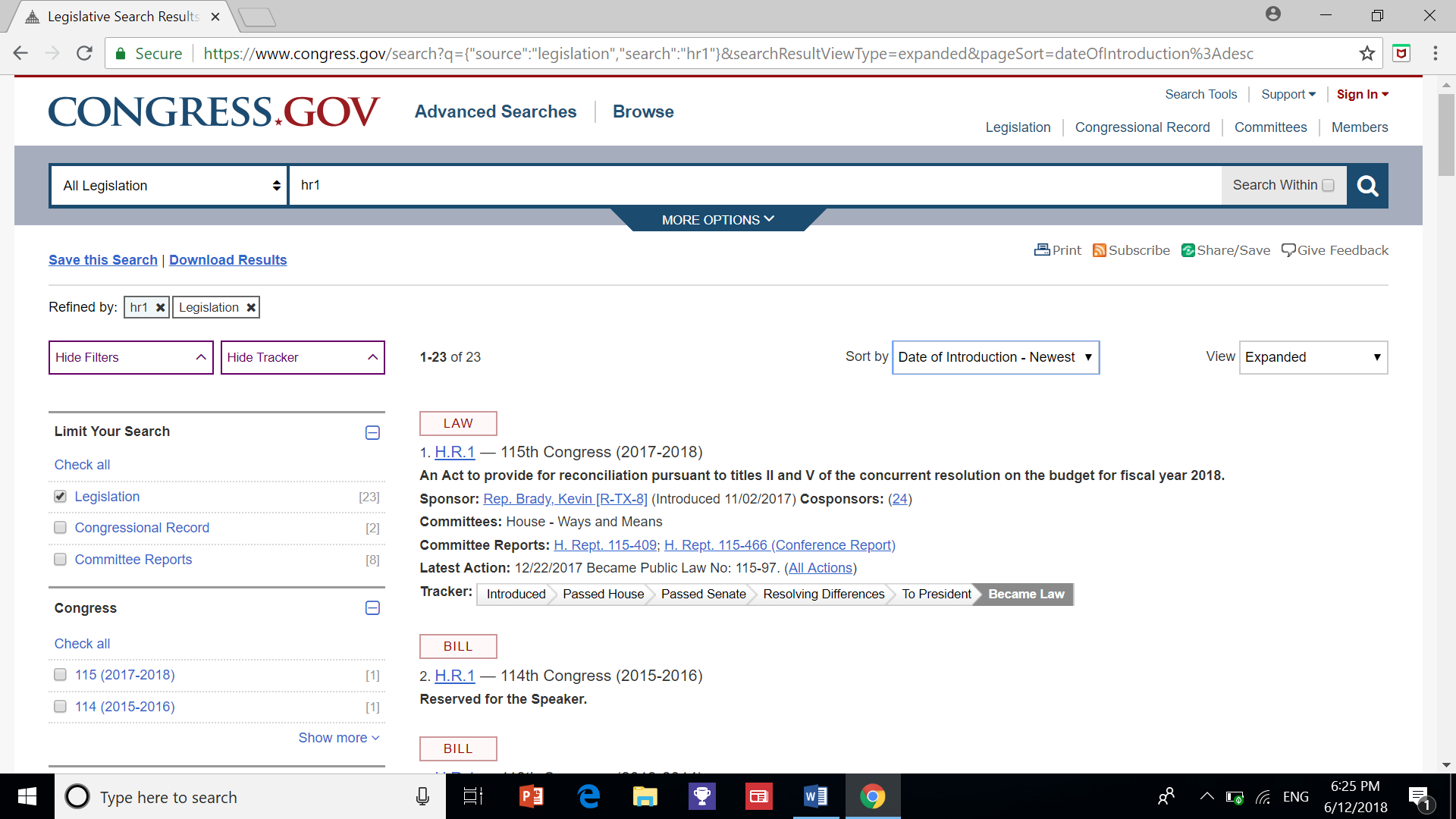 In addition to bill information congress.gov provides access to variety of other congressional information. You can use it to access live video from House and Session floor debate; listing of activity for the current legislative day; link to information about congressional activity from prior days https://www.congress.gov/bills-with-chamber-action/browse-by-date ; link to House and Senate calendars, schedules and committee activity https://www.congress.gov/resources/display/content/Calendars+and+Schedules ; link to every roll vote in the House and sent going back to 1989 https://www.congress.gov/roll-call-votes; Link to a page that allows to search for information about every member of Congress https://www.congress.gov/members; and a other useful congressional information.
It is a superior source of congressional that is mostly reliable, accurate and legitimate because it si provided directly from the House and Senate officers of record.
While govtrack.us is not an official government source of congressional information it is also a useful tool for congressional researchers. It is the best resource to quickly find out who are your Congressional representatives:
By writing in your address in the "Find your representative and senators in the U.S Congress" search box you can quickly identify who are your Senators and your Representative in Congress. Below you can see the result of a search written in the box in the screenshot above.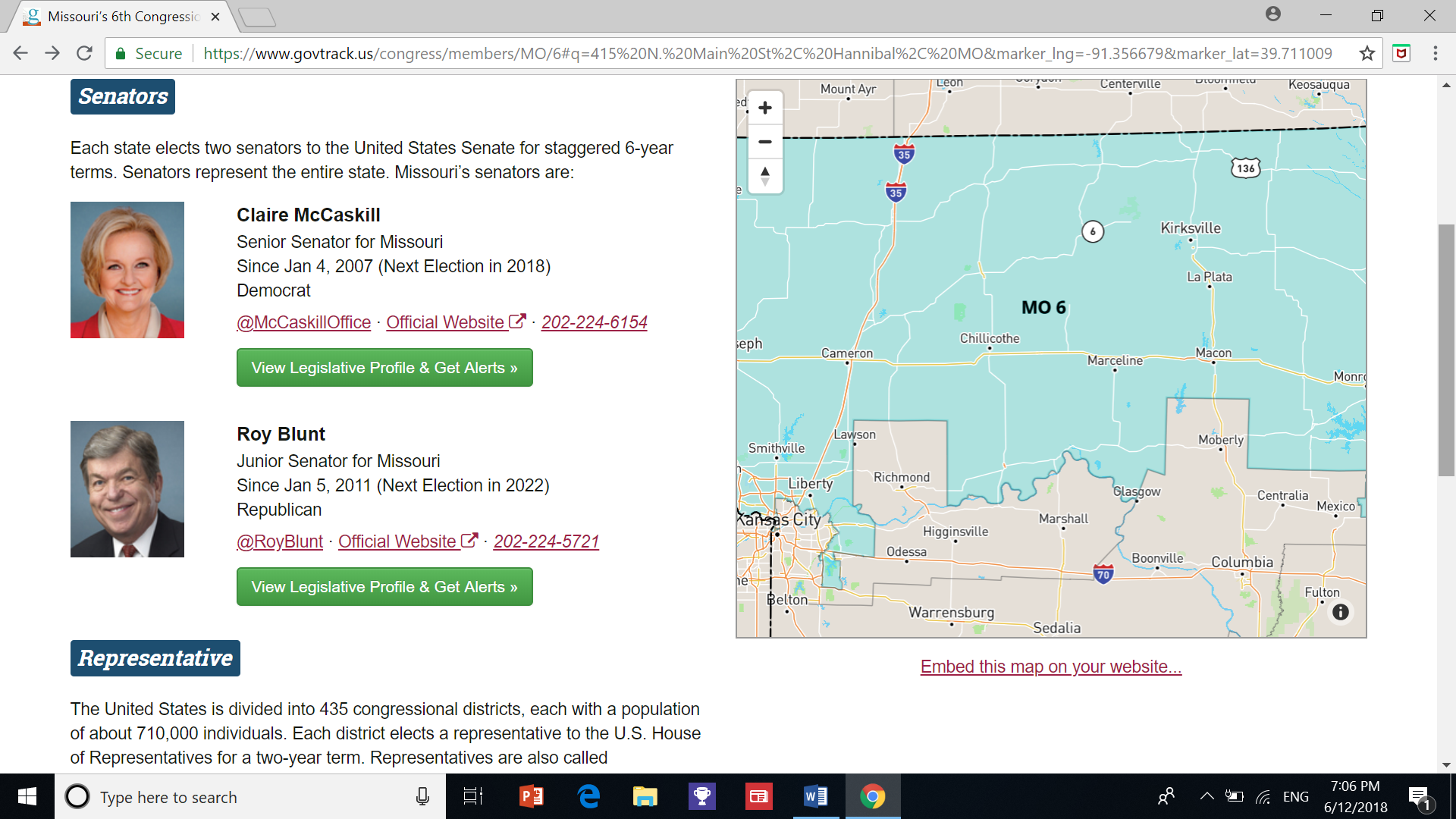 This gives a quick snapshot with basic information about the members of Congress from each district. By clicking on the "view legislative profile & get alerts" you can access a very detailed profile about congressional activity for each member that includes information about committee memberships, sponsored legislation, their voting activity and links to information about local offices and lobbying data on OpenSecrets.gov.
For someone interested in learning about legislative activity of their members of Congress this is the most detailed and reliable source of information that is available without charge.
Here, as an example, is a link to 2017 Legislative Report Card for Senator McCaskill (D-MO) that lays out how she voted last year and how her votes compare to other members of Congress. This report card is available for every member of Congress and contains a wealth of information that allows the interested voter to get a pretty solid assessment of how his/her member of Congress behaves politically.
https://www.govtrack.us/congress/members/claire_mccaskill/412243/report-card/2017
These two resources: congress.gov and govtrack.us are reasonably reliable, accurate and free and allow the voter to stay on top of all the information necessary to keep with relating to Congressional actions and the legislative activity of their member of Congress. Congress.gov is a better resource for general bill information from current and past sessions of Congress while govtrack.us is a better resource to find quickly detailed information about particular members of Congress. Using both of them will allow each voter to be well informed about congressional activity of interest to Polish-American community.