SUMMARY:  On 12 December 2018, the Warsaw, Poland and Washington, DC based Center for European Policy Analysis sent their Open Letter to President Donald Trump:  Time for American Leadership to Raise the Costs on Russian Aggression.  This letter calls on President Trump promptly to take six actions.  Ms. Julia Benbenek's article below describes the context for the fifth and sixth, as stated in the Open Letter.
"Fifth, rallying our European allies through all available means to persuade the German government to suspend its official support for the Russian owned Nord Stream 2 gas pipeline on account of Moscow's latest aggression."
"Sixth, taking visible and obvious steps that prepare new and immediate U.S. sanctions on the Nord Stream 2 pipeline — and assert the willingness to implement them."
The Spike in Oil Prices and the Future of the Nord Stream 2 Project
By Julia Benbenek
The recent oil glut has significantly driven oil prices down. This past June, President Trump promised strong sanctions against Iran in exchange for Saudi Arabia, the de facto leader of the Organization of the Petroleum Exporting Countries (OPEC), increasing oil production and persuading other nations to do the same. Since then, OPEC's crude oil production has risen by 4.1%.   In June, the price of WTI (West Texas Intermediate) crude oil was $74.45 per barrel. That has declined to the current price of $52.61.
Nevertheless, the future of oil price dynamics is unclear. On November 13th, Saudi Arabia's Oil Minister Khalid al-Falih expressed dissatisfaction with U.S. sanctions on Iran: "Sanctions didn't cut so much out of the market as anticipated." Although, the U.S. has pledged to eventually terminate all purchases of crude oil from Iran, it has granted six-months' waivers to India and China, Iran's top customers, as well as Greece, Italy, Japan, South Korea, Taiwan, and Turkey. These countries can import without penalty as long as they continuously reduce the quantity of their oil imports.
Despite pressure from President Trump to maintain higher levels of oil production, Mr. Al Falih previously had reported that Saudi Arabia plans on cutting output by up to 1 million barrels per day (bpd) to prevent a further decline in oil prices. This week, the Saudi Oil Minister's decision to decrease production was supported by a major change in policy by Kremlin, OPEC, and other oil-producing countries, which met in Vienna to discuss oil production levels. They agreed upon a cut of 1.2 million bpd which will raise oil prices; OPEC is expected to cut 800,000 bpd while Russia and other top-producers will account for the rest. At the conclusion of this meeting, Russian Energy Minister Alexander Novak stated that it likely will take several months to reach the agreed upon lower levels of oil production.
Readers recall that earlier in 2018, Russia had been increasing output.  Earlier this year, Mr. Novak said he expected oil production to increase from approximately 547 million tons in 2017 to 553 million tons in 2018. The demand for greater output to ease global supply concerns and lower oil prices favorably affected public opinion's support for the Nord Stream 2 pipeline development project. It seemed to many that a bigger Nord Stream would help to lower oil prices for consumers.
Nord Stream is a twin pipeline system through the Baltic Sea that connects Vyborg, Russia to Greifswald, Germany.  This provides a direct connection between Russian gas reserves and European Union (EU) energy markets. It is 1,224 kilometers long and has the combined capacity to transport 55 billion cubic meters of gas per year. The first line commenced transportation in November of 2011, while the second line began in October of 2012. In June of 2015, an agreement was signed to build two additional lines; this project was named Nord Stream 2.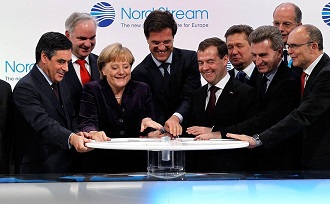 The launch ceremony for Nordstream 2 pipeline. (Image source: http://en.kremlin.ru/events/president/news/13424)
Both Moscow and Berlin have recognized the importance of the project. German Chancellor Angela Merkel expressed support for the construction of the pipeline. For Berlin, Nord Stream 2 Pipeline development would increase the level of market concentration in Germany. However, the Nord Stream 2 Pipeline has both economic and political implications. Due to the Russian annexation of Crimea, Kremlin hopes to weaken the geopolitical situation of Ukraine. Nord Stream will serve as an alternative to the trans-Ukraine pipeline. Currently, transit fees of that route comprise 3% of the Ukrainian GDP. Therefore, circumventing Ukraine would drastically affect its budget.
Poland has assumed an active role in opposing the Nord Stream project. First and foremost, Poland supports Ukrainian independence and prioritizes its stability. Additionally, President Andrzej Duda stated that it would be a, "huge threat" to energy security in Europe. The construction of additional pipelines would aggravate dependency on Russia and grant it leverage to potentially implement discriminatory pricing and anti-competitive practices. Therefore, in May, Poland's anti-monopoly office launched proceedings against Russia's Gazprom as well as five other European firms, which are co-financing the project: Uniper, Wintershall, Shell, OMW, and Engie.
Additionally, Nord Stream 2 does not comply with EU goals of diversifying gas supplies. Prime Minister Mateusz Morawiecki publicly expressed concerns that the project will undermine European energy security and the solidarity of the EU and NATO, and has called upon the U.S. to include Nord Stream 2 under its sanctions bill. President Trump agrees, and thinks it a mistake for a nation to depend so heavily on a single energy supplier. This is why sanctions against Russia's Nord Stream 2 Pipeline will prevent Moscow's quasi-monopoly of a single energy supply source, and protect Ukraine's budget stability.
Do you want to know more about this issue or explore further? Are you interested in funding PAC's advocacy effort?
Join the cause with PAC by clicking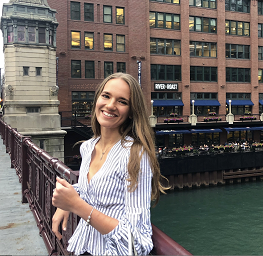 Julia Benbenek is an intern at the Polish American Congress and an undergraduate student at Georgetown University pursuing a Bachelor of Science in Foreign Service.