In the Context of Kremlin Aggression, Poland seeks to be Regional Leader in Energy Independence
by Paweł Markiewicz
The recent acts of belligerence by way of "gunboat diplomacy" against Ukraine in the Sea of Azov show that the Kremlin is not resting on its laurels. Winter approaching the European continent means the possibility of the reappearance of a secondary tool of Kremlin aggression – energy diplomacy.
The Kremlin did not reach far as it begun a disinformation campaign around Lithuanian's upcoming energy policy for 2019. In her recent piece on this issue, Dalia Bankauskaitė, adjunct fellow at the Center for European Policy Analysis, showed how pro-Kremlin media used projected energy price increases in Lithuanian to sow doubt among citizens especially before municipal, presidential and European Parliamentary elections next year. In Bankauskaitė's opinion, talk of cheap energy from the side of pro-Kremlin media is a ploy to convince voters to back pro-Kremlin candidates and turn Lithuania away from access to European energy markets.
It is not only the nations of East-Central Europe or the Baltic States who are concerned over the latest aggression in the east. Danish Foreign Minister Anders Samuelsen recently stated that the Kremlin's consistent breach of international law and order are difficult factors for the Danish government to approve the Nord Stream 2 gas pipeline to run south of the Bornholm Island, which belongs to Denmark, in the Baltic Sea. The Foreign Minister correlated the second line of the Russian gas pipeline as contrary to Denmark's security interests.
In East-Central Europe, Poland is making active strides to both diversify its energy supplies and become an energy center in the European region lying between the three seas – Baltic, Adriatic, and Black.
An active step in this direction was undertaken at the recent UN Climate Change Conference in Katowice. Polish and Danish officials signed two important documents: an international agreement concerning the Baltic Pipe natural gas project and a mutual understanding in the spheres of energy and energy transformation. By signing the international agreement, both states committed to support the pipeline investors (Danish gas and electricity transmission operator Energinet and Polish gas transmission operator GAZ-SYSTEM) and to create a common legal framework for the future infrastructure.
The signing of an international agreement concerning the Baltic Pipe Project is a move toward Polish energy independence. The goal of this project is to transmit natural gas from Norway to the nations of East-Central Europe and Scandinavia. The project envisions an offshore pipeline running from the existing Europipe II in the Norwegian North Sea to a Danish onshore transmission point. There it will be transmitted to collection points in Denmark and to a compressor station where gas pressure will be increased in order to transmit it to Poland via an offshore gas line in the Baltic Sea. This planned 275 km line will cut through Danish, Swedish and Polish maritime zones before making landfall either in Niechorze-Pogorzelica or Rogowo; both in the Western Pomeranian voivodship. There, a modern infrastructure is planned to store and transmit the gas. According to the Baltic Pipe Project website, the system – spanning a total of 900 km – is planned to be fully operational by October 2022.
For Poland, the Baltic Pipe Project is designed to increase its security of gas supply and gas market competition. Norway and Denmark will also benefit from the project as the former will gain direct access to the Polish and the wider East-Central European markets while the latter will earn transit fees.
The Baltic Pipe Project aims to deliver up to 10 billion cubic meters (bcm) of Norwegian gas to Poland per year; roughly what Poland currently imports annually from Russia. This project would complement Poland's other major energy investment – the liquefied natural gas (LNG) terminal in Świnoujście which is capable of storing up to 5 bcm of gas. On November 8, 2018 a landmark 24-year LNG delivery contract was signed between Poland's state gas company PGNiG and US Cheniere Marketing International. Deliveries are set to start in 2019 and plans are in progress to expand the LNG terminal's capacity to 7.5 bcm.
On December 19 a subsequent LNG deal was signed in Warsaw between Port Arthur LNG (a subsidiary of San Diego-based Sempra Energy) and PGNiG. This would guarantee Poland an annual 2.7 bcm per year over the next 20 years. A joint statement issued following the signing noted that this supply would meet about 15 percent of Poland's daily gas needs. Besides these two LNG projects, Poland also signed long-term gas deals with American suppliers Venture Global Calcasieu Pass and Venture Global Plaquemines LNG. The Baltic Pipe Project coupled with the LNG terminal will not only diversify Poland's supply sources but will make it a gas re-exporter to other countries in the region.
According to PGNiG's CEO Piotr Woźniak, the company is planning to sign two subsequent contracts for delivery of American LNG. "We want to build a complete supply portfolio," he said. Poland's President Andrzej Duda stressed that both projects would strengthen Polish and East-Central European security. US Energy Secretary Rick Perry described the contract as "very important" for Poland's energy security and in strengthening the country's economy. He added that the PGNiG-Cheniere partnership is an example for Europe on how to diversify energy sources and improve energy security.
Both projects are also part of Warsaw's efforts to reduce the country's energy dependence on Russia by seeing energy diversification as the best way to reduce exposure to energy extortion. It should be no surprise then that the target date for full operation of the Baltic Pipe – October 2022 – coincides with the expiration of the long-term gas supply agreement between Russia's Gazprom and Poland's PGNiG. To date, about 70% of Polish gas imports come from Russia. Given the fact that the Kremlin uses gas export as a political tool, Polish recipients, as well as those in East-Central Europe, suffered numerous limitations in gas supply causing significant losses in key economic sectors. Moreover Gazprom uses its monopolistic position on the Polish market to impose terms on contracts which run contrary to European Union regulations, shaping prices in a non-market way.
Poland cannot be simultaneously sovereign and solely dependent on Russian gas. It must achieve energy independence with the help of the US and EU. Accomplishing this would make Poland the cornerstone of an economic prosperity sphere in East-Central Europe and a strong deterrent for conflict in the region. In achieving its energy investments, Poland could stand to become a regional energy hub.
Certainly, as several Polish analysts have argued, energy independence and security are interdependent with political-military dimensions in the Nordic-Baltic region. Energy policy is part of the Kremlin's broader strategy toward Europe in which it seeks to take advantage of energy supplies to exert political pressure and create divisions among NATO and EU members.
The completion of the planned Nord Stream 2 pipeline between Russia and Germany would allow the Kremlin to sidestep Ukraine as an important transit point for natural gas to the European continent and further consolidate a key European division, i.e. the Ukrainian issue. Sidestepping Ukraine also equates to stripping it of important transit revenues. For its part, Germany would become the key distributor of Russian gas which could lead to an increase in Kremlin influence on German foreign policy, possibly weakening its credibility as a NATO ally.
According to Polish Foreign Minister Jacek Czaputowicz, Nord Stream 2 is "harmful to the security of all the European Union." In a recent opinion piece for The Wall Street Journal, US Ambassador to Germany Richard A. Grenell urged Berlin to denounce the Nord Stream 2 project as "an affront to Europe's energy and national-security goals." Along with gas, Gernell argued, would flow more Kremlin influence since as of 2017 Germany imported over 50 percent of its gas from Russia. The billions of Euros flowing from Germany east would only add to the Kremlin's disinformation and destabilization foreign policy or further its aggression against Ukraine.
For NATO and the EU, a defense of strategic energy infrastructure in the Nordic-Baltic region is of utmost importance to deter any acts of open aggression or, equally threatening, disinformation, cyberattacks or hybrid warfare. A unified stance in energy security could also serve as a further deterrent from undermining these institution's credibility and cohesion.
The Polish American Congress (PAC) supports energy independence for Poland and East Central Europe. PAC's mission is to persuade official United States governmental and American public opinion that a strong and truly sovereign Poland protects our country's national security interests and promotes our values of freedom and free enterprise in East Central Europe.
Do you want to know more about this issue or explore further? Are you interested in supporting PAC efforts to advocate for Polish energy independence? Join the cause by clicking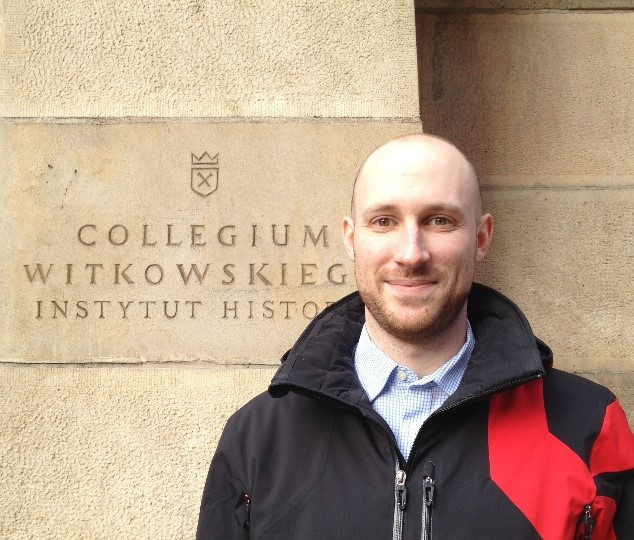 Paweł Markiewicz specializes in 20th century East-Central European history. He is a doctoral candidate at the Institute of History, Jagiellonian University in Cracow, Poland. He comments on historical and modern events in that region.