By Małgorzata Margo Schulz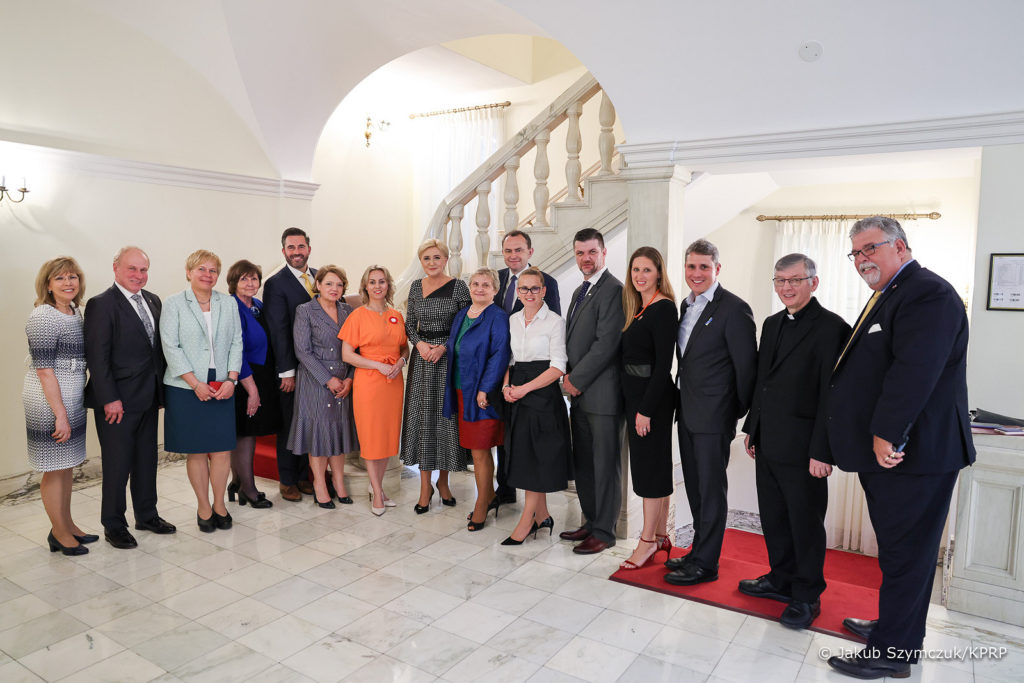 On Tuesday, May 10, the Consul of the Republic of Poland in Chicago, Małgorzata Bąk-Guzik, hosted a meeting with the First Lady of the Republic of Poland – Mrs. Agata Kornhauser-Duda, and representatives of Polonia. Also in attendance was the Secretary of State in the Chancellery of the President of the Republic of Poland – Mr. Adam Kwiatkowski. The purpose of this meeting was to acknowledge the efforts of Polonia in support of the Ukrainian crisis and to underscore the continuing need for additional financial assistance. Prior to this meeting, Poland's First Lady had a private conversation with Frank J. Spula, the President of the Polish American Congress and the Polish National Alliance.
Among the guests was Micheline Jaminski, Vice President of the Polish Roman Catholic Union of America and Polish American Congress Treasurer. In her remarks, she noted that the PRCUA is the oldest Polish organization in the USA, celebrating its 150th anniversary next year.
"I am also here today as the treasurer of the Polish American Congress and it is a great honor for me to be able to relay to you that as a result of a beautiful fundraising campaign under the slogan "POLONIA FOR UKRAINE", we (the PAC) managed to raise over $250,000.
I coordinated my efforts with this fundraiser led by the President of the Polish American Congress, Mr. Frank Spula. Thanks to the generosity of 103.1 WPNA station (and the Dziennik Związkowy), the PAC was able to reach the hearts and wallets of the Polish diaspora from all parts of the USA.
During the 3-day radio-thon and many weeks following, donations flowed from individuals, organizations, and businesses.
The largest contributors to the cause were: the Polish National Alliance, the Polish Roman Catholic Union of America, Polish Falcons of America, and one of the largest branches of the PAC – the Michigan Division.
It was a beautiful act of solidarity with Ukraine, which, under the PAC umbrella, united the entire Polish community and showed one of the ongoing goals of the Congress. The collected funds were donated to the medical needs of Ukrainian refugees in Poland through the Council on Aid for Ukrainians and the Polish Red Cross.
On behalf of PRCUA and myself, I would like to present the First Lady with a symbolic gift – a cup and a scarf both hand-painted in Polish-Ukrainian colors."
In his remarks, President Spula extended his pride and gratitude to the Polish American community for joining Poland's Ukrainian relief effort from the onset of the war and echoed the need for continued financial aid.
The visit was followed by a ceremony awarding state decorations to selected Polish Americans.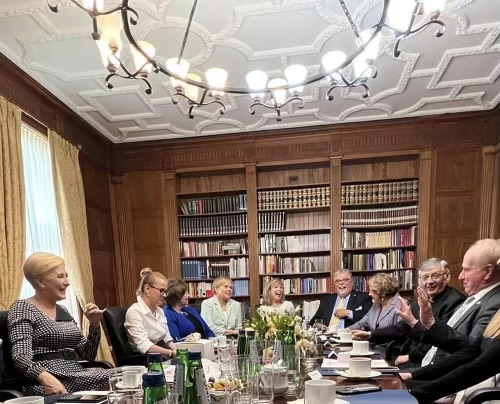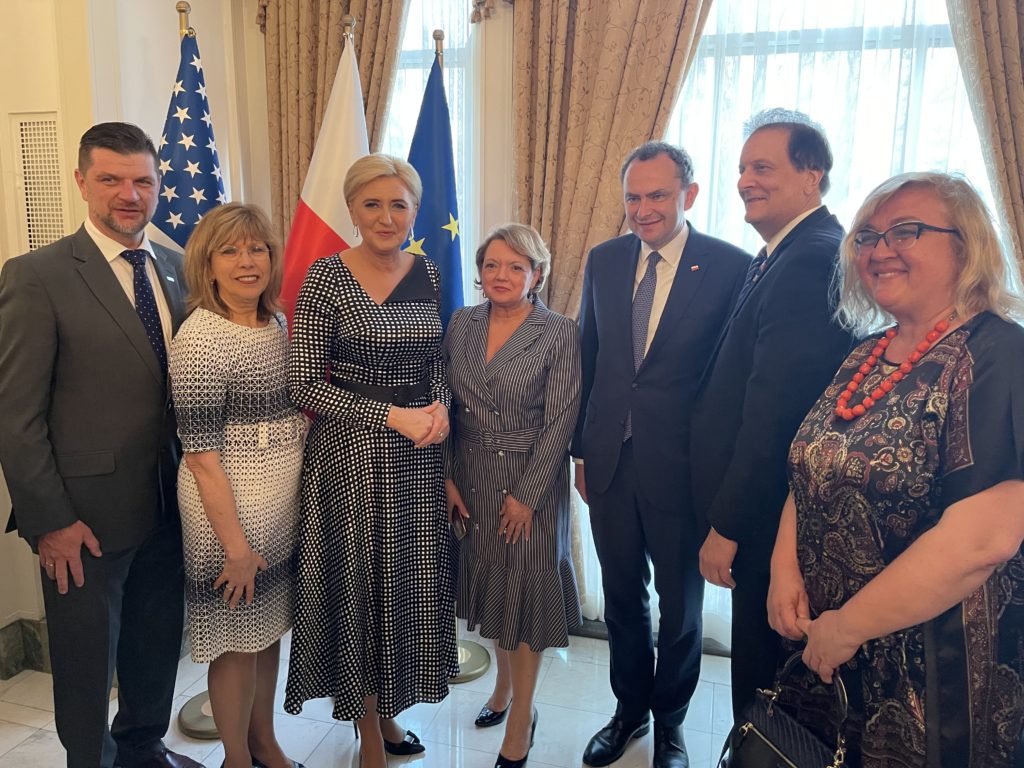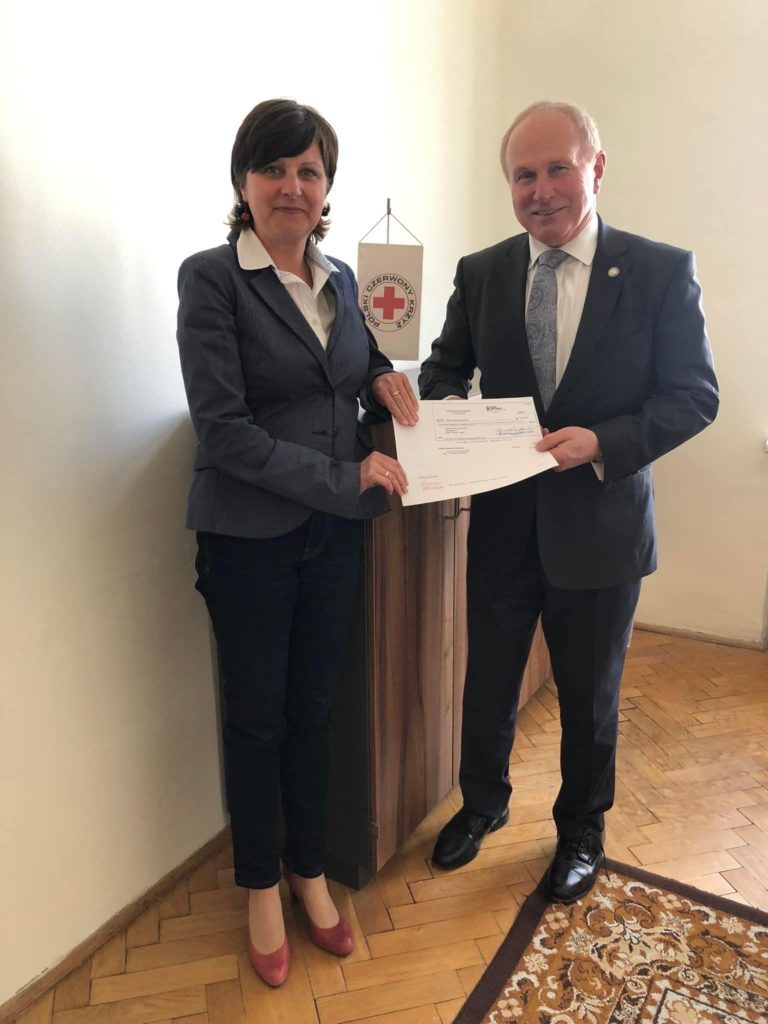 Article by Małgorzata Margo Schulz, Polish American Congress National Vice-President for Public Relations
and Micheline Jaminski, Polish American Congress Treasurer